The Manitou Bluffs
This is one of the most picturesque portions of the lower Missouri River.  Impressive limestone bluffs tower over both the river and a portion of Katy Trail State Park that runs directly along the river's eastern bank.  Paddlers can access the river from the mouth of Moniteau Creek located in the historic town of Rocheport and float down to Katfish Katy's (6.9 miles) or can choose to paddle further to Cooper's Landing (16.3 miles). Specific information on travel routes used for setting up a shuttle and aerial maps of each access location can be found below.  All of these Missouri River access points are no more than a 15-minute drive from Columbia, Missouri.  This section of river offers the ideal day trip or very relaxed overnighter. Bed and breakfast lodging is even available in Rocheport or Huntsdale for those who choose to "rough it in style".  There are multiple hotels in the city of Columbia for those traveling to the area. 
Mighty Mo Canoe in Rocheport provides canoe or kayak rentals for a guided float of the river. Tours of the river in a classic wooden skiff is available from Drew's Guide service. Paddlers will be rewarded by miles of limestone cliffs that dominate the river.  This area was important to several Native American tribes and was evidenced by historical accounts of rock paintings on the rock walls.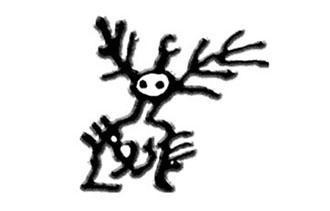 In fact, it is these rock paintings that give the area its name.  The Manitou was an Algonquin spirit symbol and several images were reported to be painted on the rock walls by early explorers of the region.  Only a few of these petroglyphs exist today and can be observed above Corbetts Spring (alternatively named "Lewis and Clark cave" and located around river mile 184 on the eastern bank).  Native American burial mounds are located throughout the top of the bluffs and speak to the spiritual significance of this area, a value that can still be understood today by those paddling bellow the massive bluffs. 
Large portions of this run of the river are also flanked by conservation areas such as the Big Muddy National Fish and Wildlife Refuge. The Katy Trail State Park bike trail also runs alongside the river for this entire stretch.  With a little planning, one can easily use a bike to get back to your car after you float down the river. 
Commercial camping is available for this run of the river at Cooper's Landing  and primitive camping is allowed on the conservation areas along the river (note: camping is not allowed on the Big Muddy National Refuge lands).  The location of these public lands can be found using the Missouri River Water Trail Mapping Tool.  It is worth noting that several sandbars will appear in the river during lower river levels (around 8 feet or lower on the USGS Boonville river gauge).  These iconic river features can provide some great camping spots.