River Mile 186.5 to 170.2 (16.3 miles)
This section takes in not only the Manitou Bluffs, but also two popular sandbars that can be found just below the ramp at Katfish Katy's.  The first sandbar is called "Airplane Island" by the locals.  An even larger sandbar just down river is nick named "California Island". Both of these sandbars can be the size of several football fields when the river is lower than 8 feet on the USGS Boonville and offer truly amazing camp sites.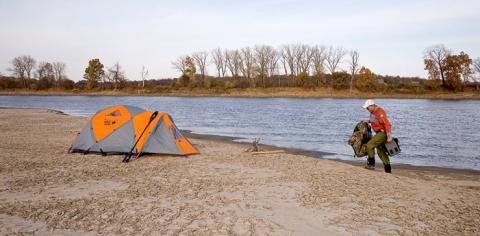 Take Out:
You end this trip at river mile 170.2 using the boat ramp at Cooper's Landing. See details on the location of Cooper's Landing on Google maps.
Coopers will occasionally ask for a $4 ramp fee, however Coopers is almost a must stop for those wishing to experience this section of the Missouri River.  Perche Creek enters the Missouri River just above Coopers Landing and paddlers also have the option of paddling up Perche Creek for a mile and using the public ramp at Providence Landing Conservation Area.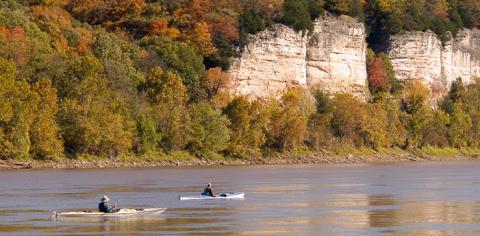 Amenities:
As mentioned, Cooper's is an icon on this stretch of river and offers camping, food, live music and some of the only docks to be found on the lower Missouri River. Access and parking for the Katy Trail State Park can also be found here.