A truly unique aspect of the lower Missouri River is the synergy with the Katy Trail State Park. This hiking and biking trail runs besides the river for over 150 miles, and is the longest rail-to-trail system in America. This popular state park is the perfect companion to the water trail and has spawned a multitude of privately run campgrounds, bed and breakfasts, unique shops, restaurants and many other services along its course - all very close to the river's edge. With a little planning, a paddler can even choose to use a bike to get back to their launch vehicle after some quality time on the river.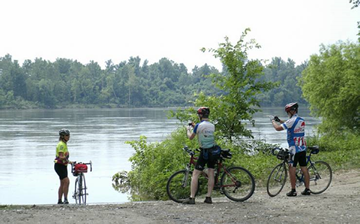 In addition to the Katy Trail State Park there are several state conservation areas, state parks, federal lands and city parks adjacent to the river. Many of these offer access points and camping opportunities and information on these locations can be found by viewing this sites series of interactive maps. An additional section with additional river tools has also been provided to help you plan and prepare for a paddling excursion on the lower Missouri River.
For those new to paddling the Missouri River or perhaps paddlers looking for a quick weekend adventure, check out the featured areas. Here you will find several highlighted sections of the water trail, with a detailed itinerary and even driving directions to set up a shuttle. These portions of the water trail are perfect for getting to know the river and all it has to offer.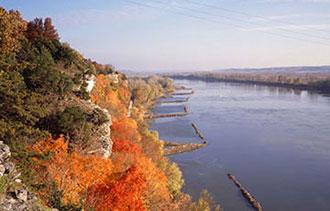 We believe you will find the river an untapped resource right in the heart of the state of Missouri. The lower Missouri River is an impressive, ever changing and dynamic river. As a result, every paddling trip presents a new adventure. However, paddlers should keep in mind that the Lower Missouri River is a very large and powerful river with the potential for significant changes in both river level and paddling conditions. As a result, the best way to get on the Missouri River for the first time is often to accompany a paddler who is familiar with the river or with an organized group or guide service. When boating any body of water, paddlers are ultimately responsible for their own safety. It is important that you familiarize yourself with the challenges presented and some additional information in this regard can be found in the river safety section of this website.