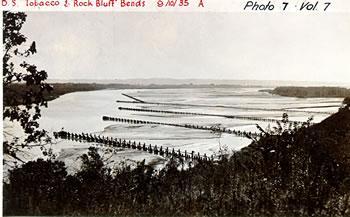 The modern Missouri River has been substantially changed from the river that Lewis and Clark traveled 200 years ago. As early as 1819 the United States government initiated programs to determine methods for managing the river, in terms of both navigation and flood control. Over the ensuing years the river has been systematically reshaped and stabilized by the U.S. Army Corps of Engineers.
Today, the lower Missouri River is contained to a set channel. In order to accomplish this, the U.S. Army Corps of Engineers used the natural sediment load of the Missouri River. Structures were installed along sections of the river, designed to slow a portion of the river's flow. The resulting reduction in turbulence would cause the sediment rich water to drop its heavy load of silt and sand. This process was designed to eventually create landforms and yield a deeper river with a dramatically reduced channel width.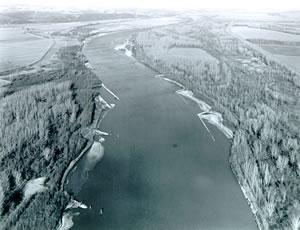 Wing dams (rock dikes) were also installed to further control the flow of the river. These structures act to direct the flow of the river to a central channel. This increases the velocity and allows the river to self-scour its channel, minimizing the need for dredging of the river. In addition, most of the riverbank was reinforced with rock to prevent the river from eroding the channel and changing its course. Later, levee systems were constructed along the river in an effort to protect the bottomlands from the high water events that the Missouri River is famous for.
Despite all these changes, the lower Missouri River still retains much of its remote natural beauty. The Big Muddy provides a unique paddling experience, unlike any other river in North America.